Product Description
Heat exchanger tube in an extensive range of austenitic stainless steels, duplex stainless steels, nickel alloys, titanium and zirconium, suitable for all types of heat exchangers,
such as seawater coolers, condensers, evaporators, heaters and reheaters
Max Stainless Steel's heat exchanger tube program includes imperial and metric sizes, from outside diameter 12 mm up to 38 mm.
Special sizes can be made to order. Max Stainless Steel's heat exchanger tube are supplied in straight lengths up to 12 meters, or as U-bent tubes.
Lower life-cycle cost with duplex stainless steels
Max Stainless Steel's duplex stainless steel heat exchanger tubes perform exceptionally well in a variety of environments and media common in process industries, resulting in lower life-cycle costs.
Stainless Steel U Bent Tubes are manufactured usually as per the customer's requirements.
U bent tubes are widely used in heat-exchanger systems. Heat exchanger equipment on the basis of stainless U-tube is essential
in strategically important and critical fields nuclear and petrochemical machine building.
U-tube heat exchangers Designed for high temperature applications, especially steam condensing or hot oil systems. This model is selected when differential expansion makes a fixed tube sheet exchanger unsuitable and when conditions preclude a floating head type (HPF) selection.
Surface condition Finished U-tubes shall be free of scale, without scratches after bending.
Standard Specification of Straight Tubes For Bending:
ASME SA 213; ASME SB 163; ASME A789, ASME SA269, ASTM A 213, ASTM A 312, etc.
Technical parameters of U bend pipes:
OD 9.3 - 38 mm
Bending radii from 1.5 x OD up to 1,250 mm. Minimum bending radii for OD over 28 mm after agreement.
Leg length min. 1,000 mm.
Leg length max. 12,000 mm.
Heat treatment for radii up to 1,000 mm.
Stainless steel u bent tubes usually are supplied as boiler tubes
and heat exchanger tubes.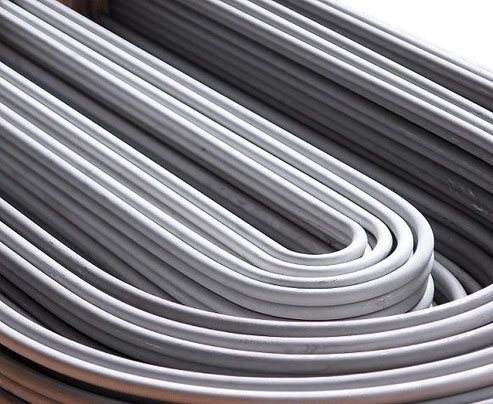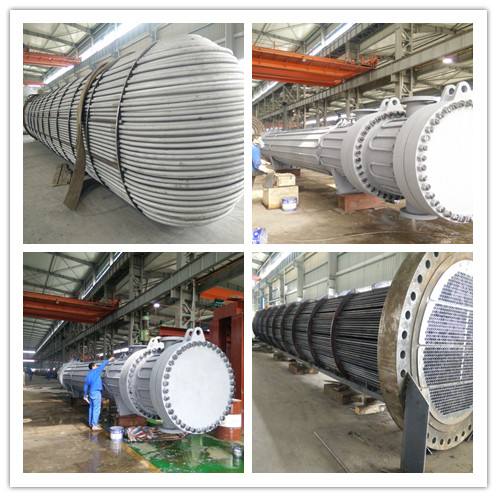 Heat exchanger tube materials
The tables show our standard materials for heat exchanger tube. Other grades can be offered on request.
Duplex stainless steels
ASTM

EN no.

W.-nr

AFNOR

S31500
-
1.4424
1.4417
Z2CND18-05-03
S31803/S32205
-
1.4462
-
Z2CND22-05-03
S32304
-
1.4362
1.4362
Z2NC23-04AZ
S32707
-
-
-
-
S32750
-
1.4410
-
-



ASTM

EN steel no.

W.-nr

AFNOR

S30403/S30400
304L/304
1.4306/1.4301
1.4306/1.4301
Z2CN18-10
S31603/S31600
316L/316
1.4435/1.4436
1.4435/1.4436
Z2CND17-13
S31635
316Ti
1.4571
1.4571
(Z6CNDT17-12)**
S32100/S32109
321/321H
1.4541/1.4940
1.4541/1.4878
(Z6CNT18-10)**